---
---
*The person who brought you HF(me, Heather) is starting a new site MHTA(More Hanson Than Anything) For this I will be teaming up with my best bud Rose, and we will be hosted on www.green-jello.com The new site will not be up for awhile, just waiting for the sub-domains to be made. We would've had MHTA up earlier, but the site was hacked 4 times. Well stay tuned for the opening date!
---
*okay, well I was going to be hosted on green-jello.com, but the person has decided not to host. So, anyways, about more hansont than anything. We are going to be opening up this week! We did get hacked again=( about 2 weeks ago, whcih makes it the 5th time, so itz taken awhile to redo everything, but we are just doing finishing touches. Stay tuned this week for a link to MHTA!*
---
*Okay, here's the scoop on the hosting thing. I have, for a very long time, wanted to get Hanson Fantasy on a domain, itz own domain, but I just can't afford it. As you ll know there are new domains that are host good web sites. Well, I emailed one of them, and they said that they would host us. I will take the offer, depending on the circumtances. More news to come in the future, but look out for a new adress soon=)
---
*The new hansonline is up, and itz great! Check it out at www.hansonline.com Here's a capture of it.*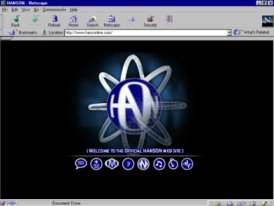 ---
*Hanson will be performing at the Warner Bros. Studio Store in Manhattan, New York on November 21 to promote the soundtrack to Jack Frost(thaks to Hanson Hotel for that info)
---
*Hanson will be hosting MTV's Total Request Live on Wednesday, November 11(thanks to Hanson Hotel for that info)
---
*Hanson will be featured on Access Hollywood on November 11.(thanks toHanson Hotel for that info)
---
*Hanson is scheduled to present at the 1998 Billboard Music Awards which will air December 7 at 8:00pm ET on FOX.(thanks toHanson Hotel for that info)
---
*The Rosie date has changed to Nov,16, so check local listings 'cause the show is syndicated.*
---
*I guess Hansonline is wrong, The Road to Albertane(rta) came out today! Itz very cool, I don't want to let all of the secrets go, but you may see them sleeve-less, maybe even shirtless, and you might see Ike being a total maniac(in a good way) Go out and get it when you can, the cd and video are definatly worth it!
---
*Hansonline has been updated. The official news about Live from Albertane(cd) and Road to Albertane(video) is that the video will be releases on Nov.10 and the live cd on Nov.3rd.
---
*Word has it that Hansonline has a new webmaster. His name is Matt Spaid, and I believe he is 15 years old. I don't know why they have a new webmaster, but watch out for an improved Hansonline, and let's hope that Mr.Spaid does his work right, and that Hansonline will have more current news.
---
*Hanson will be on Melrose Place sometime around Christmas if you caught Entertainment Tonight on the 23rd then you would know that Hanson spent Zac's b-day on the set of MP and they are going to play Christmas songs on Mp.*
---
*Go check out Hansonline and notice that it says New and improved Hansonline coming soon!!*
---
*Hanson's new album Live From Albertane will be released on Nov.3rd*
---
*Hanson's new video Road to Albertane will be released on Nov.10th*